PTFE Coated Fiberglass Fabric
Product categories of PTFE Coated Fiberglass Fabric, we are specialized manufacturers from China, PTFE Oven Sheet, PTFE Coated Fiberglass Fabric suppliers/factory, wholesale high-quality products of PTFE Coated Fabric R & D and manufacturing, we have the perfect after-sales service and technical support. Look forward to your cooperation!
China PTFE Coated Fiberglass Fabric Suppliers
Our PTFE Coated Fiberglass Fabric combine the non stick and heat resistance of PTFE, with the strength and dimensional stability of fiberglass, creating a coated fabric suited for a variety of demanding civil and industrial applications.
The General Characteristics of Ptfe Coated Kevlar Fabric is: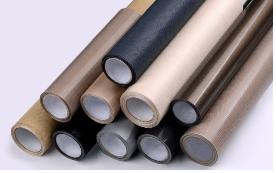 *Resistance to temperatures ranging between -55 and 260°C;
*Excellent non-stick properties;
*Excellent resistance to aggressive chemicals
*Low friction surface with excellent Release
*Food Approval
*Dimensional Stability under heat & pressure
*Low electrical losses
We produce a variety of PTFE Coated Fabric in different PTFE content and finish type. And they meet a range of application based on weight, thickness, surface finish, dielectric properties, etc.