Non-Stick Oven Liner
1.Product Description
The Non-Stick Oven Liner is suitable for all standard / not fan ovens, we recommend our heavy duty oven liner, for fan ovens as this will not move in the air flow!
No need to put your head in an oven ever again smelling those caustic fumes from oven cleaner chemicals that don`t work very well anyway!
No need to be on your knees ever again, cleaning what is supposed to be a self cleaning oven!
Place the Non-Stick Oven Liner on the bottom of your oven to protect it against splashes, messy drips, fat, burnt-on sugar, burnt-on juices and burnt-on oven messes. Nothing will stick to this oven liner! We recommend that you cut it oversize so as to create a small lip to contain the spilt fluids.
2. Versatility Of Use
Non-stick oven liner- cut the oven liner to size and placed on the bottom of your oven, if your oven has a heating element under the bottom shelf then place the oven liner on the lowest shelf, to protect your oven against splashes, food boiling over, etc.

Non stick baking sheet- you can bake, warm and defrost food directly on the non-stick sheet. You can cut this oven liner sheet and use it as a liner for any of your cake, bread, pie and other baking tins.
BBQ Liner- you can line your BBQ with this material and stop rust and burnt food ruining your meal - BUT THE FLAMES MUST NOT TOUCH THE LINER

Covering film-to prevent food splashes in the microwave. The Oven Liner is much simpler than cling film to use.
3.Advantages

- The Non-Stick Oven Liner helps to keep your oven clean, saves hard work!
- No need for caustic / dangerous cleaning materials!
- Reusable Oven Liner up to 1,000 times
- Replaces 10 rolls of baking paper / parchment!
- The Non-Stick Oven Liner can be cut to size with scissors to fit any oven or bakeware
- Versatile: use as an oven liner / baking sheet / covering film
- Suitable for all standard / not fan ovens (gas, electric, AGA, hot-air, microwave, grill)
- Heat - resistant up to 260°C (500°F) oven liner
- Excellent heat transfer oven liner
- Easy to clean in soapy water with a sponge, or kitchen paper
- Dishwasher safe non-stick oven liner
- Complies with Food regulations – Europe standard 45001, U.S. Food & Drug Administration (FDA)
- Rectangular shape oven liner
- Size - 33 x 38cms (13 x 15")
- Colour – Black oven liner
- Money back guarantee
- Non stick branded oven liner
- sealed in a cellophane bag with instructions
4.Notice To Use The Non-Stick Oven Liner
We send our liners rolled, NOT folded, so as to ensure they are flat, unlike others who fold them.
Can also be used as a non stick craft sheet as neither paint, glue or anything else will stick to it!
Leave in the bottom of the microwave or oven and you'll be able to wipe away those burned on spills!
Use it to cover microwave dishes during cooking
Place under kids colouring or painting projects
Roll out dough or anything sticky on it
Place it under glue projects
Fry on it, some top fast food chains line their griddles with it
Re-Use it hundreds of times
It has no taste or smell
Avoid use with sharp objects or direct flame
Non stick feature allows cooking without fats or grease keeping your dishes low in calories for Healthier Cooking or Baking and even frying!
Kids have used it for sledging but I don't recommend it! Too slippery!
100% Antikleef
Voor alle ovens en microgolfovens. Maandenlang bruikbaar. Gemakkelijk afwasbaar.
100% Anti-Adherente
Pour four et fours a micro-ondes. Reutilisable. Facile a nettoyer.
100% Antihaft
Fur Ofen und Mikrowellen. Monatelang wiederverwendbar. Einfache Reinigung.
5. Certificate
LFGB REPORT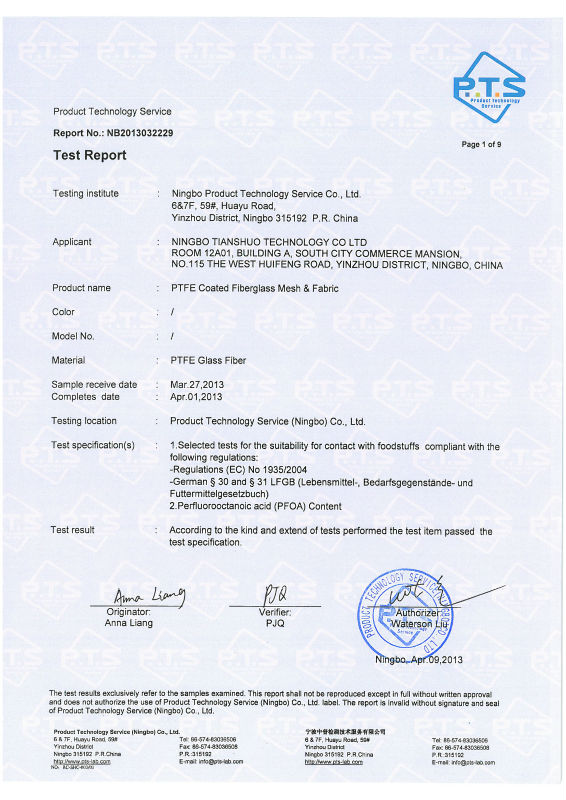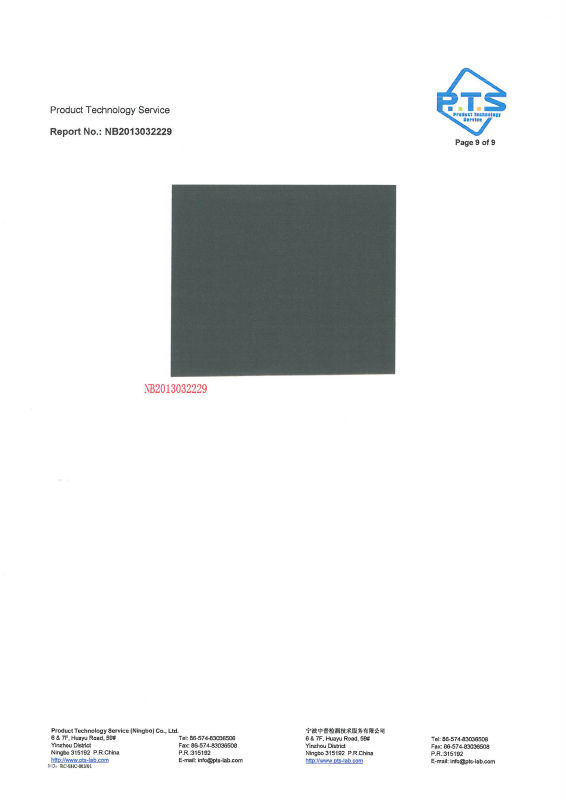 Looking for ideal Non-Stick Oven Liner Manufacturer & supplier ? We have a wide selection at great prices to help you get creative. All the Non-Stick
PTFE Oven Liner
are quality guaranteed. We are China Origin Factory of Nonstick Toaster Ovenliner. If you have any question, please feel free to contact us.