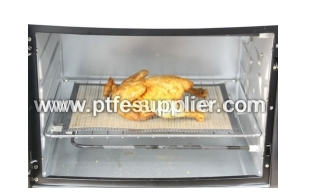 PTFE is approved and has been used in commercial applications for more than 40 years. Permeability. Avoiding wasting heat and improve drying efficiency for its permeability. PTFE is a plastic with the lowest friction coefficient. It is used as a non-stick layer.
PTFE non-stick oven mat is great to use for cooking pizza, garlic bread, fish, sausage rolls or when the parties.
As a pan or as spacer oven and microwave. After each use, clean up is very simple. Tianshuo PTFE non-stick oven mat easily remove all kinds of adhesives such as resin, paint and chemical medicine. Having high tensile strength and excellent flexible fatigue resistance.